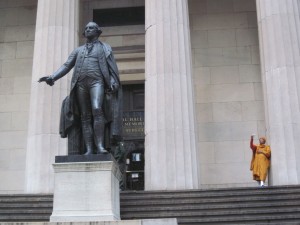 "I've sat down with people all over Iraq, and from Bosnia and Afghanistan and Turkey; and if you can get past the emotion, which isn't always easy, you see that our beliefs are almost exactly the same."   That's what my friend Brian, who is a Lieutenant Colonel in the Army, told me last night when he was here with his wife Renee.  They are in town for a few days while Brian attends meetings set up by the Army War College, which he is currently attending.  Brian and I have known each other all our lives, so we share a common history, but our paths have been very different.    His wife Renee is fantastic, but she and I disagree on many things when it comes to politics and religion, she being much more conservative than I am.  I enjoy her company partly because I know we can agree to disagree without condescension or bitterness.   Last night we sat around a table talking about everything from the barns Brian and I played in as kids to his time in Baghdad.     He and Renee have Muslim soldiers in their unit, and are appalled at any kind of racism or prejudice.   Brian said the so-called 'ground zero mosque' is a good thing.  Muslims had a prayer room in the Twin Towers.   They deserve a place to worship as much as anyone.   I was impressed with the sense of calm and fairness that emanates from this childhood friend who has become a leader of men.   No fanatic patriotism or blind faith here, but a keen awareness of the world and the people in it.
When it comes down to it, our similarities far outweigh our differences.   This is true for all people.  If only we could step away from the emotions involved, which as Brian said is hard to do,  we might be able to see that more clearly.
_____________________
P.S.   The picture you see here was taken today at Federal Hall, where George Washington was inaugurated.   It needs no explanation from me, but I think George would be pleased.