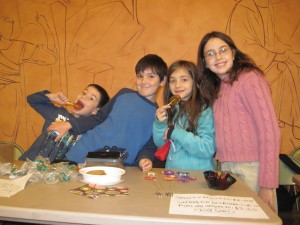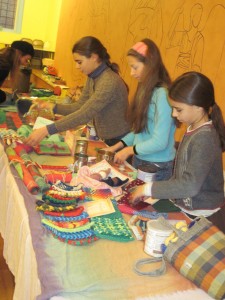 The Craft Fair is one of our favorite monthly meetings.  It is also one of the best attended.  Today over 40 kids showed up with stuff they'd made – the 'sellers' – and many more came to shop and socialize and take part in the free craft projects set up by the organizers.    Megan Thompson was there as well.  She is the woman from our local PBS affiliate who interviewed us in September for a show she is putting together on homeschoolers in NYC which will air sometime in January.   She asked me as part of the interview why I feel events like these are important.   Monthly meetings are a great reminder of what a large and varied community we have.    It is also lots of fun to see all these kids, ranging in age from about 4 to 16, hanging out with old friends or meeting new ones, totally at ease and without any of the suspicion or 'clique-ish' behavior found in any large gathering of schoolchildren.    No one's craft was belittled or made fun of, no matter how crudely put together.  Shells painted with nail polish were greeted with as much enthusiasm as  hand-knitted dolls and hats.   Everyone sold some of their wares.  (Maya made $30, in typical Maya fashion.  I think Ben made $4, but he also took a lot less).   Watching the kids at these functions is fascinating.  They are all happy, generous people.  One girl who we've known since she and Maya were babies, but with whom we rarely socialize, had made a five page newspaper, complete with puzzles, coloring pages, a 'how to' article, an interview with a writing instructor, and several photos.  It was wonderful and she walked the room and hawked them for 50 cents each.   I remember her as a shy, sometimes almost sullen toddler, and now she shines.
As for me, I got to reconnect with some of my favorite parents who I don't see very often, and got to sit down with Lucy Albert, who attended LaGuardia Performing Arts High School for most of last year, but opted not to finish or return.  (Tune in tomorrow for more on that conversation).
It struck me that when we go out to places where there are lots of children and parents, (like, god forbid, Make – the pottery painting place-  on a weekend!)  I am often ready to leave after about fifteen minutes (or ready to strangle about half of the kids and even more of the parents).   But the NYCHEA meetings aren't that way.  The parents hang back and let the kids do their thing.  The kids run around and enjoy themselves, checking in now and then when they get hungry or, in the case of today's event, need more change, or to ask if buying just one more cookie is ok.   It's a great atmosphere in which to spend a few hours.
One woman there today is considering pulling her three kids out of school.  She came to the meeting to see what we're all about.   She told me that her children are slowly losing their ability to notice the flowers or see the butterflies because they are so overwhelmed with the hours spent in school and the homework.   (I believe she said they are 8, 9 and 11).    And maybe that's it.  The kids we see at the NYCHEA meetings never lose their ability to notice the flowers, see the butterflies.   Two years ago it began to snow in the middle of the Craft Fair, and instantly all commerce was forgotten in the haste to get outside and catch a few of the first flakes.
Happy imaginative people are fun to be around, no matter what their age.   It was fun to hand out with a lot of them today.