Tonight Maya is spending the night upstairs (on the 21st Floor) at her best friend Greta's apartment.   We haven't seen much of Greta lately, as she attends middle school and is usually inundated with homework.  Despite the vast differences in the way they are being educated, Maya and Greta remain fast friends.   The house is always full of laughter and giggles when they are together.   Greta got a new game today, so the girls will no doubt be up till all hours playing…
And then tomorrow, our friend Maya Sposito is coming here for an overnight, and Ben will be going there to spend the night with Maya's brother Jonah, who is Ben's best friend.   Overnights tend to be fun for everyone including the adults, as the kids are completely absorbed in whatever they are doing and disappear into the bedrooms early (even though they stay up late.)   And sometimes, like tonight,  it means we have one kid instead of two, and it is amazing how different the energy is here when that happens.
And THEN, as if overnights galore were not enough in the way of excitement, Ben's front tooth has been loose all day and just as I was starting this entry, it came out: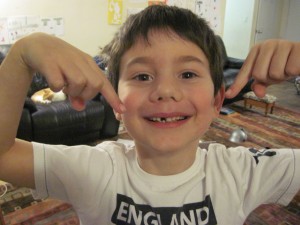 Both he and Maya lost their first tooth after they turned 7, and he's been messing with this one for a few days, helping it along.   He is very excited for tonight's visit from the Tooth Fairy, and shortly after I took this photo, he announced that he was going to bed.   His tooth is in a bottle cap next to his bed, for easy access.  He was afraid it would get lost under his pillow.
So it's been a great day.  (Fridays are usually pretty good for me, because it is Pilates day, but this one was even better.)  Oh, and just as an update, I made the first planned crock pot meal for dinner this evening, and won rave reviews from everyone including Ben, who tends to be the pickiest among us.
Now if the weather will just get warmer….